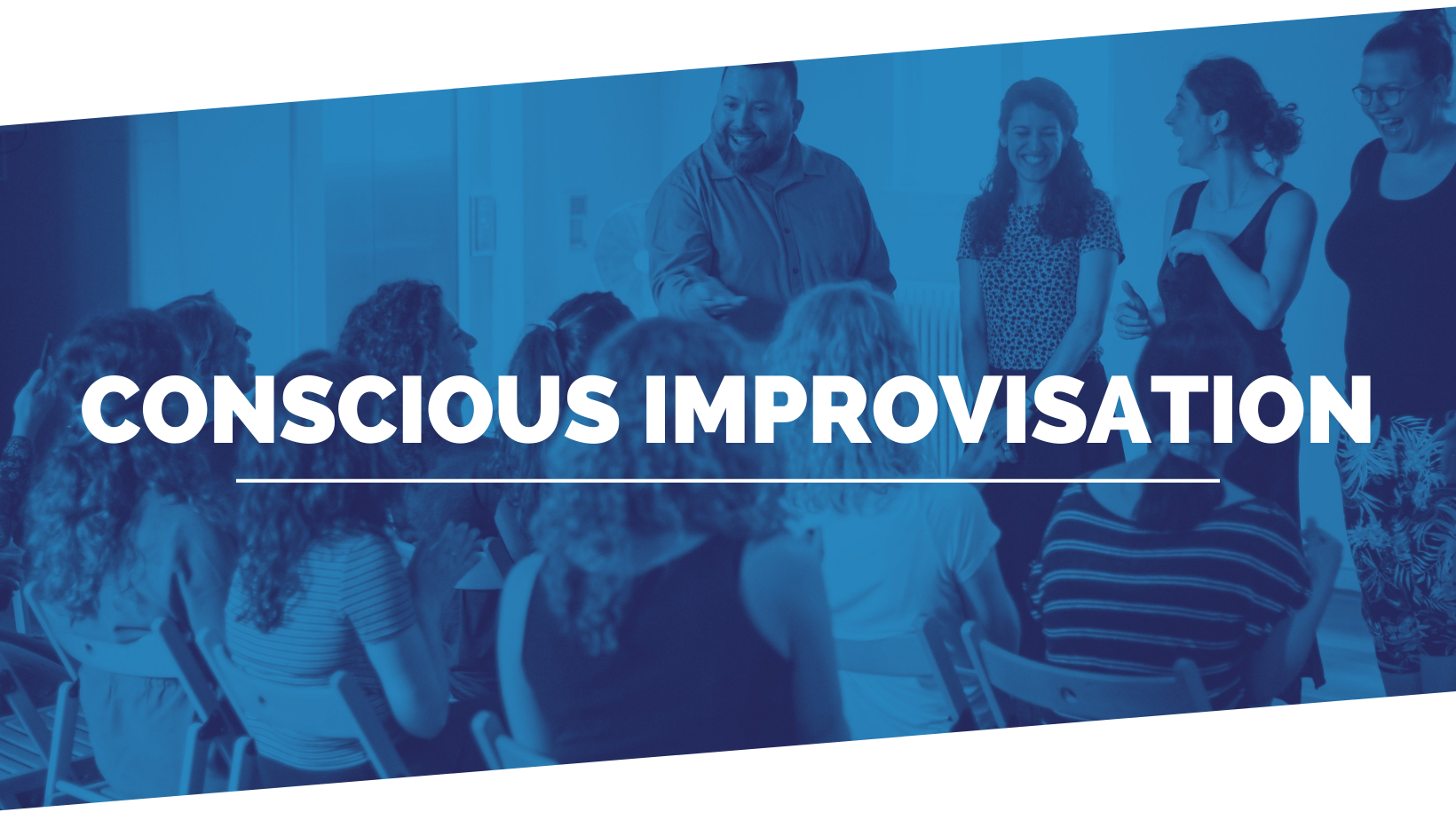 Conscious Improvisation: Module 1
Conscious Improvisation: Module 1
The Conscious Improvisation methodology is a good way to acquire new social skills, improve one's communication 1 to 1 or with presentations. Strengthen one's creativity and fantasy, create security in the relationship with yourself/others and much more. It's based among other things on traditional drama training, Improv Theatre, Wheel of Consent, Access Consciousness and more.
Become an even better you
Get a unique chance to step into a different engagement of self-development with the QbicCircle perspective on improvisation.
Want to be a better professional? A better friend? A better you? Conscious Improvisation will teach you, among many things, how to tackle the unprepared with drive and success, in a safe and supportive environment. You will be challenged to move out of your comfort zone and most likely laugh and have fun while you do it.
Learn to own your power
Discover more about yourself. Learn to be bolder, to open up and stand firm. Understand, know and trust what you have to offer and bring it forward. Learn to act in ways that are deliberate, focused and grounded in your values.
Learn to adapt and be agile
To improvise requires flexibility and agility. When something isn't working, you often have to change things up on the fly or in the moment. You will learn that change is just another part of the process of getting it right and have success.
Learn the importance of emotions
What makes us different from machines and computers is our ability to imagine and feel emotions. Building emotional awareness in your life is a gift for growth and wisdom. You will learn to make each person in your life feel seen, understood and valuable.
Conscious Improvisation is for everyone
Regardless of age, profession and previous experience. The course is for you who have never tried improvisation before. Or you who have a dream of avoiding sweaty palms the next time you have to present something to your colleagues, customers or partners. Or for you who just want a fun and challenging moment with your friends. All you need is a curiosity and an open mind.
In module 1, we will review
The importance of – avoid judging yourself and others
To stay in good contact with the help of "Yes &"
Learning that mistakes are gifts and getting rid of perfectionism
and much, much more
About the course:
– The classes will be in English
– 3 hours once a week for 4 weeks. A total of 12 hours.
Price:
3000 kr. (Early bird + Low income/Members & Friends TBA)
Dates:
Thursdays Oct. 7th, 14th, 21st & 28th
Time:
From 6pm to 9pm
Location:
Relational Spaces, Ryesgade 15, 2200 Copenhagen
Practical information:
Bring clothes that you can move in.
Bring something to drink and/or a snack, something easy to eat.
Bring something to write with and something to write on for notes.
Please note that you must not wear outdoor shoes. You may bring indoor shoes or slippers.
About Rolando Yunquera:
Rolando is an educated Social Educator from VIA University College Peter Sabroe. A graduate of the Dell'Arte School of Physical Theatre, ICC Theatre and IO Chicago. He has taken a multitude of ​​courses. He has done hundreds of ​​shows and appearances as an actor and improviser. His teachings are based primarily on Improv Comedy Theatre, but also inspired by classical drama/theatre techniques, CI, Wheel of Consent and other methodologies. Rolando's energy is contagious! He is a passionate teacher who motivates, supports and possibly makes you stomach hurt from laughter.
"For me, improvisation is much more than standing on a stage. It is a training in becoming an even better person."
– Rolando Yunquera
"I still remember my first lesson in improvisation by Rolando Yunquera!! 3 hours just flew.
Rolando is a fantastically energetic and attentive teacher of improvisation.
If I did not have too many things to do right now, I would throw myself in and play with others."
– Sigita Skudra